Lindenmayer appointed to Board of Regents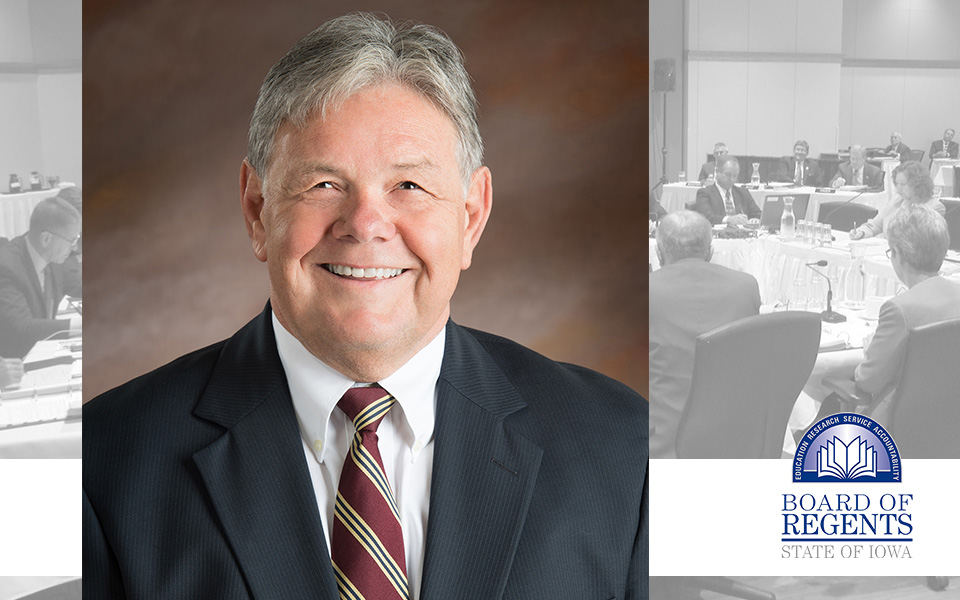 Former Indian Hills Community College president Dr. Jim Lindenmayer has a new position in education. Iowa Governor Kim Reynolds has selected Lindenmayer to serve on the state Board of Regents, which governs Iowa's three public universities and two special schools.
Lindenmayer, who was the Indian Hills president for 12 years and had a 30-year- plus career at IHCC, will replace Subhash Sahai on the Board of Regents, serving the final year of a six-year term on the nine-member board.
In announcing the appointment, Governor Reynolds cited Lindenmayer's passion for "work-based learning" and, in a statement, said, "His focus was on training Iowans and getting them the advanced skills and experience needed to meet workforce needs and provide them with a great career. I am confident he'll bring that passion to the board and Iowa's public universities."
Lindenmayer said he's grateful for the appointment and looks forward to the opportunity to serve on the board. "I really appreciate the support I have been given throughout my career," the newest board member said. "I have been blessed to have a wide range of experiences in higher education as well as workforce training programs like Job Corps."
The current chair of the National Job Corps Association in Washington, D.C., Lindenmayer was instrumental in getting a Job Corps Center to locate in Ottumwa while he was the Indian Hills president.
The governor praised Lindenmayer for, among other accomplishments, increasing enrollment at IHCC during his presidency and for establishing a Rural Health Partnership made up of healthcare providers throughout the college's 10-county area.
"Since my retirement I've had the opportunity to work with a number of other institutions of higher learning in other states," Lindenmayer stated. "It is obvious to me that Iowa has one of the best systems of higher education in the country. Like most systems they face funding issues and all of the same social issues that challenge all of us."
Lindenmayer came to Indian Hills in 1980 to take the position of continuing education coordinator. He moved up to vice president of administration and human resources and, then, became the college's third president after Dr. Lyle Hellyer retired in 2001.
With his over 30 years of experience at the community college level Lindenmayer is also knowledgable about four-year schools, having earned his bachelor's degree from William Penn University and a doctorate from the University of Iowa.
Dr. Marlene Sprouse replaced Lindenmayer as IHCC president and said she is proud of her predecessor's appointment. "Dr. Lindenmayer has spent his career as an advocate for education of all types as a catalyst to improve lives," she said. "This appointment is a great fit for him. Indian Hills is proud of Jim and his continued commitment to the people of Iowa and to education as a way to help individuals and the state."
The president of the Board of Regents is Mike Richards, who issued a statement about the appointment that said, "(Jim's) wealth of experience and depth of knowledge of higher education issues will make him a huge asset to the Regent enterprise. I look forward to working with Dr. Lindenmayer as we continue our mission to provide high-quality, accessible education to our students."
Lindenmayer takes over the spot on the board immediately and on an interim basis. The appointment will need to be confirmed by the Iowa Senate, which can't happen until the Legislature reconvenes early next year.