Summer Basketball Camp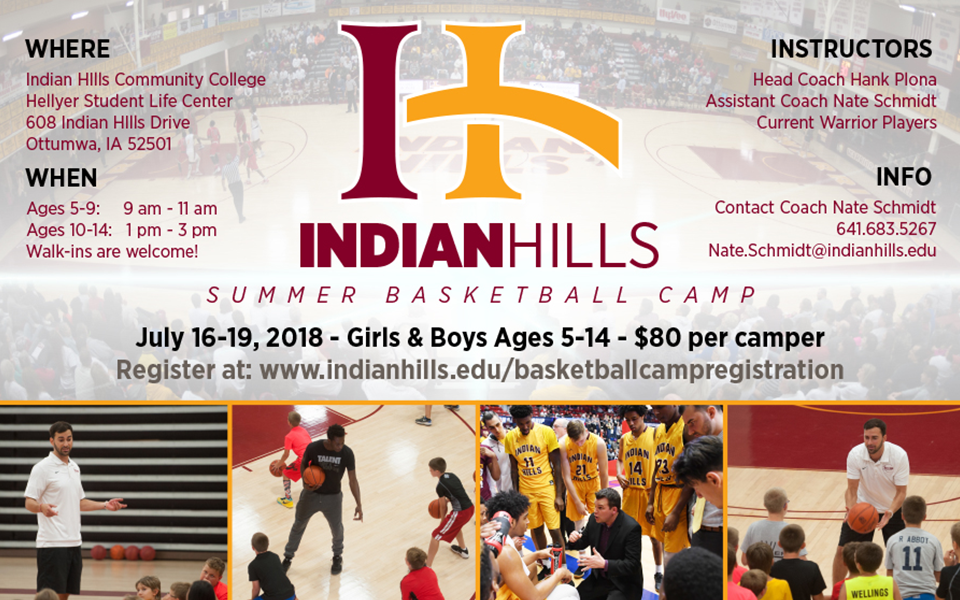 OTTUMWA -- The Indian Hills basketball coaching staff has set the dates for the summer basketball instructional camp for boys and girls. The camp will be held July 16-19 in the air-conditioned comfort of the Hellyer Student Life Center on the IHCC Ottumwa campus.
There will be two sessions, one for youth ages 5-9 that will run from 9-11 a.m. each day, and a second session from 1-3 p.m. for those ages 10-14.
Instruction in basketball fundamentals will be provided by Head Coach Hank Plona, Assistant Coach Nate Schmidt, and Warrior players.
Awards will be handed out throughout the week and a special camp t-shirt will be included in the cost, which is $80 per camper.
"We would love to have a great turnout for our camp," Coach Plona said. "Our staff and players enjoy the opportunity to get to know the young kids in the community and in our area and to help them develop their basketball skills. And it's always fun to spend time with them for the week."
Plona recommends registering for the camp early to reserve a spot, but notes they will also accept campers up to the start of camp July 16.
To register for this year's camp, please visit www.indianhills.edu/basketballcampregistration